Yesterday was 'Stir it Sunday', the day traditionally where families make their Christmas puddings and cakes. The last Sunday before advent would see the family come together to all get involved in the baking, and each would have a turn to stir the mix and make a wish.
Sainsbury's
asked me if I'd get involved and sent me the ingredients to make our own puddings - the recipe is at the end of this post if you want to make your own - it's not too late!
Making the puddings gave me a chance to use some of my favourite vintage cookware that I've collected from thift stores and sales over the years.
I have LOTS of traditional Mason and Cash pudding bowls, and to be honest they only get used at this time of year - except maybe for the odd summer pudding.
I also got the chance to use my MASSIVE TG Green mixing bowl. I've got a few of these, but this one is by far the biggest. It's enormous and I like to think it was used by a cook in some grand house in years gone by.
For me, using vintage is not just about re-use and saving money. It's about the history and back story. As we make our own family memories, I wonder how many Christmas cakes these bowls have seen. Have they been used to mix family wedding cakes, and then birthday cakes for years to come? Did they go through the war years and see mixes stretched with extra additions to compensate for rationed items?
Will they stay in my family for years to come? Will I mix my own wedding cake in it? My daughter's? Who knows...
Sainsbury's classic Christmas Pudding recipe
- 385g Sainsbury's mixed dried fruit
- 80g Sainsbury's ready-to-eat dried figs, roughly chopped
- 75g Sainsbury's glacé cherries, roughly chopped
- 100ml basics brandy, plus some for flaming
- 1 small cooking apple, peeled cored and grated
- 1 small orange, zest and juice
- 100g shredded suet (vegetarian if you wish)
- 3 med British free-range Sainsbury's Woodland eggs, beaten
- 100g Sainsbury's ground almonds
- 200g soft muscovado sugar
- 140g self-raising flour
- 20g Sainsbury's almonds, halved
- 1 teaspoon ground mixed spice by Sainsbury's
- ½ teaspoon ground cinnamon by Sainsbury's
Method
Grease a 1 litre pudding basin. Put the mixed fruit, dried figs and glacé cherries into large pan with the brandy and bring to the boil; turn down and simmer for 5 minutes. Remove from the heat, cover with a lid and leave to soak overnight.
Mix together the cooking apple, orange juice and zest, suet, beaten eggs, ground almonds, sugar, and flour in a large mixing bowl.
Stir in the soaked fruit, almonds, mixed spice and cinnamon. Pour into the greased basin. Cover the basin with 2 large circles of greaseproof paper and one of tin foil and secure around the top of the basin with string. Make a handle across the basin with the string.
Place the basin in a large saucepan, with a lid, and pour in boiling water until it comes half way up the basin. Cover with the lid and steam for 2 hours. Allow to cool, then wrap the whole basin in foil and store until Christmas (see tip).
One hour and 30 minutes before you want to serve the pudding, place into a large saucepan, as before, and steam for 1 hour and 30 minutes until cooked through and springy to touch.
To serve, pour over a couple of tablespoons of brandy and light the pudding. Serve with brandy butter, cream or vanilla custard.
Cook's tip: This pudding will keep in a cool, dry place for up to 3 months.
Do you have any vintage items you've thrifted in your house? I'd love you to link up your second-hand finds and grab the badge below.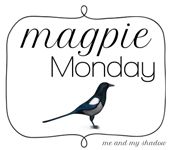 Also linking up with the Great Blogger Bake Off Christmas Edition with
Mummy Mishaps
and
The Crazy Kitchen.